Managing Your Migraines: Common Trigger Factors
Your lifestyle and migraines are unique to you. Managing Migraines has identified common trigger factors to help you better manage your migraines.

To help you to start managing your migraines, please also consider:
Common Trigger Factors:
Missed or delayed meals
Stress, disturbed sleeping patterns and anxiety
Weather
Female Hormones
Loud noises
Bright, flashing lights
Smoking
Pollution and strong odours
Physical or mental exertion
Certain medicines
Get your copy of Managing Migraines for a full description of this list and other helpful information.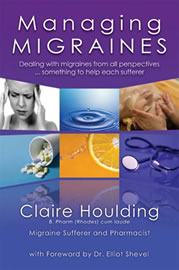 Booksellers