Managing Your Migraines: Migraine Diary
Your lifestyle and migraines are unique to you. Managing Migraines recommendations you keep a detailed migraine diary to help you better manage your migraines.

To help you to start managing your migraines, you should also consider:
Migraine Diary
more info to come here

Get your copy of Managing Migraines for further helpful information and a full description of how to manage your migraines.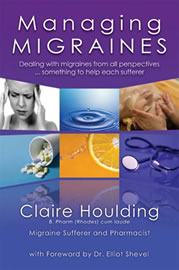 Booksellers